There are very few purely, truly, unambiguously one hundred percent Good things in this world. It is the nature of living. But there are fully good things to be found. That picture of Orlando Bloom delightedly bicycling with a small dog in a makeshift Babybjörn, for instance. Or the cinematic masterpiece Zendaya is Meechee.
Three such gifts to humanity are Target, Christmastime, and ridiculous and unnecessary items that cost less than $10. As Justin Bieber once said, "It's the most beautiful time of the year": the time when the Target dollar spot is transformed into a shrine to yuletide.
The only thing that could make these items better is a full, thoughtful, very serious review.
1. A MYSTERIOUS…SET?
Price: approx $10 each
Three miniature deer. A pair of gnomes who are…dwarfed (get it?) by the enormity of their hats. Small birds wearing hats and scarves. A vintage-looking car that is somehow wrapped in Christmas tree lights, as if no person ever need open the doors.
Many strange decorative items cost exactly $10 and seem to have no reason to exist. Except that careful research reveals that the mad geniuses at Target want you to arrange them (along with some pine branches you presumably have handy?) into a bizarre set.
It is completely pointless and inexplicable. Also, I purchased a small bird wearing a hat.
Five stars.
Buy a million separate things for it here
2. AN ABSURD AMOUNT OF BEADS
Price: $8
I do not know why any human would need twelve feet of red beads, but also I don't know your life and if you just so happen to need four yards of seasonally appropriate craft materials, might I recommend Target?
It's eight dollars, which seems reasonable for the amount of beads you're getting.
Five stars.
Buy it here
3. THE PERFECT GIFT FOR THE ME IN YOUR LIFE
Price: $4.99
This is not a decor item, but it IS Christmasy, especially in that I would like to own it but am unable to due to the fact that it is not available in my local Target. Therefore I need someone to purchase it for me. As in a gift. And what's more Christmasy than that?
Don't say "giving instead of receiving."
For five dollars you can eat Reese's™ branded candy every day. For twenty-five days. Guaranteed. (Or you can pull a me and plan to get one in mid-December, and then you can binge eat a couple weeks' worth of advent chocolate just in time for finals.)
Five stars.
Buy it here
4. STICK IN A BAG
Price: $3-$10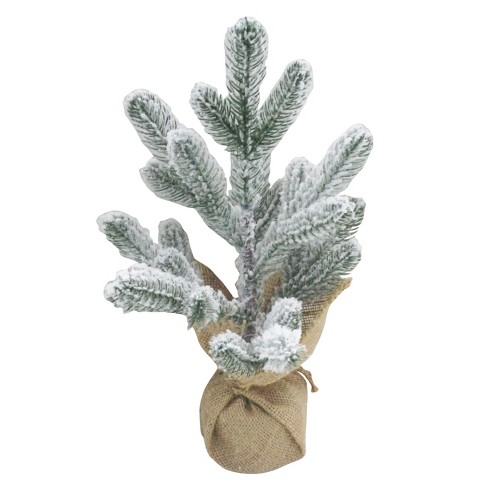 Historically, Target has had some great options for the individual who wants a Christmas tree but also wants it to be fake and not convincing and scent-less and very, very, very small and also wrapped in burlap for some reason.
This year, not so much.
This item, which alleges itself to be a "Burlap Wrapped Flocked Christmas Tree White," is for all intents and purposes a somewhat white fake stick in a scratchy blanket.
Five stars.
Buy it here
5. THINGS THAT ARE SCENTED LIKE A THING THEY AREN'T
Price: $5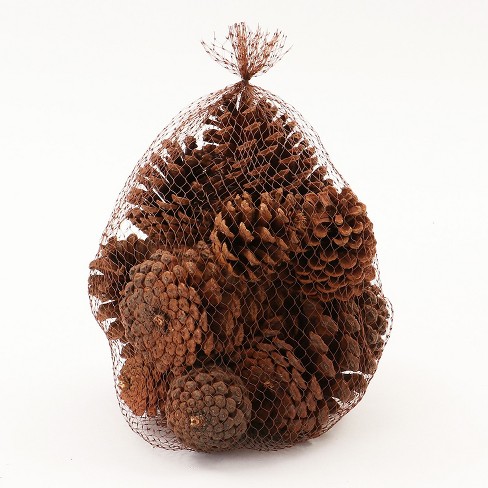 Here is a mesh sack of pine cones. There are fifteen of them and they cost five dollars. I don't know a lot about the economics of faux pine cones, but that seems like an absurdly good deal to me. (#Notspon.) Also, they are 1) fake and 2) allegedly scented like "Christmas."
In spite of the fact that this is a tremendously broad term, and therefore the contents of this bag could smell like anything from air to leftover turkey and technically fall under that umbrella, but this product fails even that. It has over a dozen negative reviews on the sole basis of its scentlessness. It fails at the one thing it claims to be able to do.
Five stars.
Buy it here
6. HAVE A HOLLY, JOLLY EXORCISM
Price: $5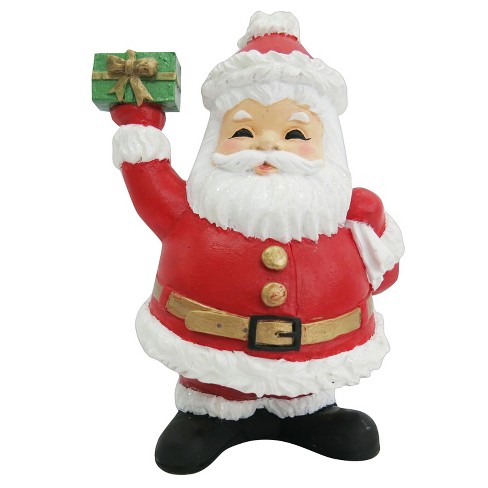 There are many decorative Santa figurines in this world. They range from teeny to life-size to maybe even bigger than life-size, which would actually be very scary come to think of it.
However, I am particularly fond of this one from Target, which clocks in at just under six inches tall and is made of "resin." (I have only a passing understanding of what that means.) He also costs five dollars. My affection for this Santa has nothing to do with the material with which he was made, though, or even his shockingly low price. Mostly I just like that he is so smiley and happy looking, and also his eyes are blacker than the pits of hell.
He looks freshly possessed.
Five stars.
Buy it here
7. A MYSTIFYING ADDITION TO THE MYTHOLOGY
Price: $8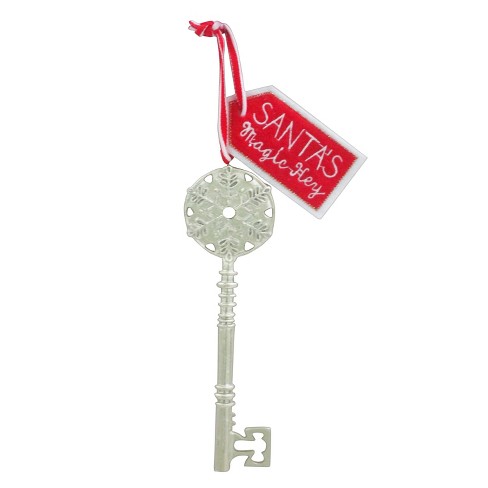 I am, at this moment, baffled.
When I saw a product labeled "Santa Key," I said, huh. That begs for further investigation. Is Santa known to have a key? Do we associate keys, as a culture, with Santa? What does the key unlock? Does it unlock anything? Or is its main purpose to "lend elegant appeal […] to any holiday vignette," as the Target website seems to indicate?
Then I saw the key itself has a helpful label. But the label just clarifies that it's "Santa's Magic Key." As opposed to any of the normie keys Santa may have laying around.
Five stars.
Buy it here
8. FANTASTICAL HUMANOID CREATURES, KEBAB STYLE
Price: $5.94 (on sale from $8.49)
Target seems to think that gnomes have something to do with Christmas, which is an impression I have not been under historically. However, I'm as big a fan of a hat-, nose-, and beard-based figure wearing a hat as the next girl, so I'll take it.
What I'm not sure I'm on the same page with is the fact that, in this particular incarnation, these lil guys are on sticks. Like s'mores marshmallows. Or corn dogs.
Five stars.
Buy it here
9. A DANGLING NIGHTMARE
Price: $7.49 (on sale from $9.49)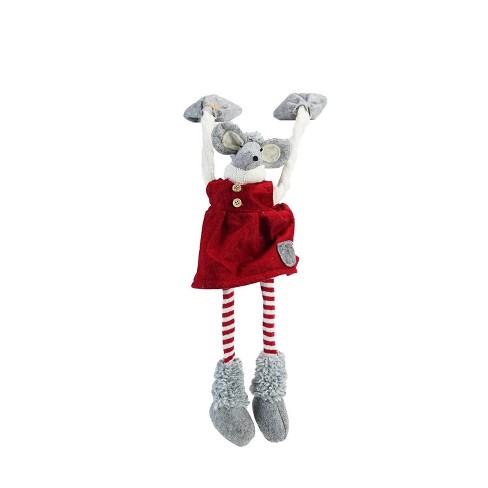 All right. We've had our fun. But playtime's over.
What the hell is this?
This is not cute. This is not quirky. This is, excluding the vaguely seasonal color scheme of the sufferer's costuming, not even Christmasy. This appears to be a mouse-victim undergoing mouse-torture. And it could be forcefully, seemingly painfully hung from YOUR fireplace for less than the price of a burrito bowl!
Five stars.
Buy it here
10. A VERY NORMAL ANGEL WITH AVERAGE, UNREMARKABLE PROPORTIONS
Price: $9.49 (on sale from $10.99)
Nothing to see here. Just your average Northlight fourteen-inch Sitting Girl Angel wearing a Plaid Hat Tabletop Decoration. Typical stuff. Nothing extraordinary. She's smiling, obviously, because it's Christmastime and angels love Christmas. Also, she lives in Target, so that's fun for her. Wearing winter gear because it's wintertime, obviously.
Also, her legs are longer than God's.
Five stars.
Buy it here