Exercising doesn't necessarily mean running ten miles to feel good about yourself. Why run when you can do yoga to feel just as good physically and mentally? Yoga is one of the greatest forms of exercise because it is both physically and mentally satisfying. The intense focus on mentality is why I love yoga so much. I feel rejuvenated after, not exhausted. I want to go to yoga, I don't dread this type of exercise. Mental exercise is just as important as physical exercise and yoga is a wonderful outlet to strengthen your brain.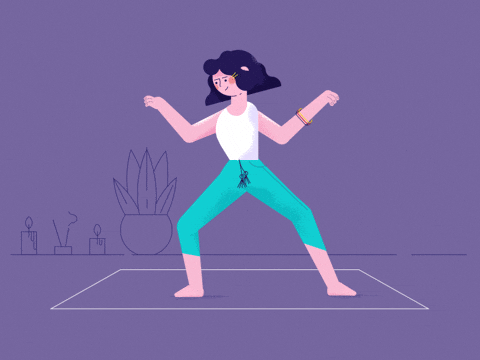 You may only be at downward dog right now, but pretty soon you could be bending like a pretzel.
Yoga is all about focus. Forgetting about work, relationships and any other responsibilities to focus on your body and mind. Yoga is the only time I am allowed to focus on just myself, how my body is moving and allowing my mind to focus on keeping my breathing deep and steady to relax my mind. It is also a great technique to help sleeping problems because the breathing techniques can be implied if there is trouble falling asleep. Yoga breathing has helped me many,many times with sleep when my mind is too cluttered to think about resting.
Yoga allows you to relax your body and mind to create a better you. What I love about yoga is how breathing is a centric part of all classes. Deep breathing is an amazing tool to use in times of stress, pain, anger, fear…the list goes on. Once I began practicing yoga regularly, it became easier to apply the breathing techniques and notice a change in how I handled tense situations. You don't realize how many benefits there are to yoga until you find yourself in public stretching out your shoulders or letting out a deep breath.
Another great aspect of yoga is stress relief. The breathing paired with stretching will wash all the stress away and allow you to relax your body and mind. Yoga moves tend to focus on relieving tension from the shoulders and back, which is where stress builds up in your body. Stress can build up quickly in your body without you even realizing it. This can lead to pulled muscles and other health complications like chronic stress which is more serious. Yoga allows you to stretch out all of your muscles and replace any pain caused by stress with soothing relief and comfort.
More experienced yogis can do intense backbends and splits but don't feel pressured to match their expertise right away. It takes time to increase flexibility, but it is possible for you to get there! Dancers tend to have impeccable posture because they are stretching and increasing their flexibility constantly. Yoga can have the same results!! Weekly stretches and poses will strengthen the muscles in your back and shoulders, which will lead to better posture. This could take a few weeks, or maybe a couple of months. The benefits of breathing techniques will be present almost immediately, but don't give up on the physical benefits which will take some more time. Consistency is key! Whether that means five minutes of breathing everyday, or 20 minutes of new poses and stretching, it is all positive for your mind and soul. Letting out stress while increasing flexibility…double benefit!
The BEST part about yoga?? You can be your own teacher! There are dozens of YouTube tutorials and apps you can download that will guide you through stretches and breathing techniques to get you started. Once you get the hang of it, you can start doing it alone! Just 10-15 minutes every day can do a world of difference for your body and mind. I can say all I want about yoga, but you have to try it yourself to experience the benefits.
Good luck and namaste!