If you're anything like me, you like trying new things and visiting new places. Even if you aren't as inclined to branch out, summer is a great time to try new things and visit new places. New adventures don't necessarily require lots of money and preparation, you can have a lot of fun in and around your hometown to spice up your summer and discover some hidden gems. Trust me, growing up in a small town has forced me to get very creative when I'm bored.
Whether you're bored on a rainy day, or sick of going to the beach on your day off, these ideas can help you find something different to do this summer.
Public Parks
The best vacation I have ever been on was to a national park. Last summer my family visited Acadia National Park in Maine, and the sights were breathtaking. I have never seen such natural beauty and it made me want to go on a national park road trip. Wherever you live in the world, there are public parks, hiking trails, and lakes that many people don't know about. A lot of them are free entry, too! If there is a daily fee, the money goes back into environmental efforts to keep the parks open and thriving.
There are numerous parks in Massachusetts alone, and thousands across the country. Many offer kayak and canoe rentals, camping grounds, and scenic walking trails. Parks are a great way to bring out your inner adventurer and spend time outside.
They are also perfect for your furry friends to enjoy.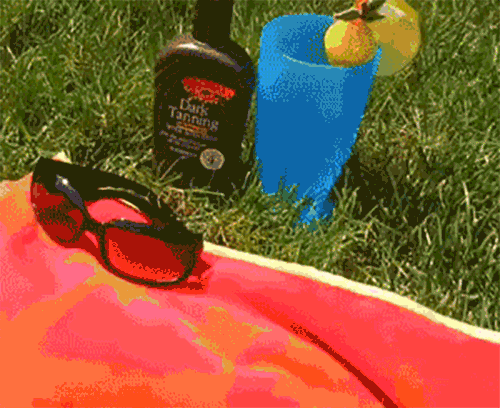 Aren't into climbing mountains? Have no fear! Pack up a nice lunch and go sit by a beautiful lake or overlook, I promise you will not be disappointed. Lunch with a view is always a good idea.
Parks can be packed during the summer, but there are multiple trails so nothing ever feels too crowded. Getting out into nature is great physically, but also mentally. The warm summer air and the sound of birds chirping in the trees creates a natural zen environment. There is something so peaceful about sitting in a quiet park and taking a step back from a fast paced life. Every time I visit a park I feel happier and more relaxed when I leave.
Secret Beaches
If you live near the ocean, I'm sure you're familiar with the local beaches. But do you know all of small, secret beaches that aren't crowded with a million umbrellas and coolers?
I am living on Cape Cod for the summer and I have started to discover multiple tiny beaches that are nearly empty. Most don't even have parking lots and consist of a tiny path on the side of the road that leads to a little slice of heaven.
These beaches can be tricky to look up online because people like keeping their secret sanctuaries private, so doing field research may be your best bet. They are usually close to public beaches, unmarked and down a side road. Getting to them is an adventure in itself but once you reach the destination the serenity is well worth the journey. If there isn't a sign that says "Private Property," put your towel down and make yourself at home.
When you find a place like this, shhhhh! It's a secret beach for a reason!
Give your tastebuds something new and different
One of my favorite things to do over the summer is try to find the hidden gems of the food world. They are everywhere! So many restaurants in the U.S. are inspired by places all across the world, bringing an international food experience right to your hometown. Yelp is a great place to start and gives a reliable outline of what kinds of dishes to expect. It is particularly helpful to read reviews of dishes you aren't used to before making the trip.
I like branching out to find different food because it is easy to get sick of the same things. I fell in love with Indian cuisine through my summer research and I thoroughly enjoyed being able to go to somewhere so new and different with so many amazing flavors I have never experienced before. My taste buds were happily surprised.
Picky eaters can enjoy new food too, most places can create dishes that are fairly mild if that is what you're comfortable with. No matter what kind of cuisine you are trying, try to choose something on the menu that sounds different and exciting. If you discover you really like it, try making it yourself at home! Fill this summer with new food adventures and maybe discover a new love for cooking.
Grabbing some friends and visiting a funky place for dinner is an awesome adventure and summer is the perfect time for it.
Unusual Sports
The category of sports encompasses a lot more than baseball and football. No running is involved, just fun! Whether it's ziplining, whitewater rafting or bubble soccer, there are many wacky activities out there to try this summer.  
One place I have really been wanting to go the past year or so is a treetop adventure park near my house. Definitely find one of these places near you if you want to feel like a monkey! This park is a course of ziplines, tightropes, rope walls and more. It has been built in the woods so you really feel like you're a tree animal! I went ziplining once before in New Hampshire and absolutely loved it and I am yearning to check this place out.
Bubble soccer is another funny one that has become somewhat recreational in the Boston area. Once you put on the "bubble" you look like a hamster ball with legs. It is hilarious to watch but looks like it would be so much fun to try. There are locations and variations of this activity all across the U.S. and it would be perfect to rent some for a party, or just for fun with friends!
The Zoo
The zoo is so underrated. I absolutely love the zoo. You can find me there, standing next to a seven year old, just as excited as they are to see the giraffes walking around. They are fairly cheap to visit and showcase amazing, exotic creatures.
If you live near Washington D.C., the Smithsonian National Zoo is free!! It also happens to be the best zoo I have ever been to…they have giant pandas, lions, elephants, and so much more.
The zoo is a great summer day trip, and I definitely recommend going on a weekday if you can because it is a lot less crowded and easier to get up close to all of the animals. Some zoos also allow you to bring in your own food and drinks, so you can save money by packing snacks from home.
In addition to the zoo, go to the aquarium! So many beautifully colored fish, penguins, seals, and other water creatures that are amazing to see up close. The aquarium is a perfect adventure for a rainy day.
I hope this list helps you kickstart an amazing, adventurous, memorable summer. (: