As broke college students, keeping up with the changing trends season after season is not only hard, it's expensive. With every season comes new "must have" items that are pushed to the back of the closet after only a few months, in favor of the next big thing. So before you buy some new clothes that will quickly go the way of harem pants and shoulder pads, choose fashions that can go the distance. Here are some versatile trends to incorporate into your wardrobe from the Spring 2012 runway shows that you can start wearing now, and will still look great come spring (and beyond).
Candy Colored
Pastel shades in all colors were all over the runway. Many designers mixed different colored pieces together to create rainbow outfits. For a more wearable version of this, stick to one attention grabbing shade and keep the rest of your outfit toned down.
These light pink flats from Target work as a neutral and can be worn with many different outfits, but the detailing makes them a little more interesting. Wear them now with jeans, a printed tank top, and a thick cardigan to stay warm or with a slouchy button down shirt and a colorful skirt in the spring.
 Blue jeans are an essential, but colored denim can be a surprisingly flexible item in your closet. The color might seem scary at first, but wear it with neutrals and it's a quick way to make a big statement with your outfit. Pair these pink jeans with a loose gray pullover now, or with a white tee and light scarf in the spring.
Bold Patterns
Another trend was big and bright patterns. From florals to geometrics to artsy prints, many different ones abounded. Some prints were mixed and matched while others stood alone as a statement making piece. Getting versatile, everyday pieces in fun patterns adds visual interest and can make a simple outfit seem more interesting.
A patterned floral scarf will instantly add interest to an outfit. Whether it be jeans, a skirt, or a cardigan, a scarf can work with almost any outfit.  Pair this scarf from Old Navy with a dark blazer and riding boots to keep warm this winter, or for spring wrap it around a dress that picks up the colors in the print.
This Target dress can be used year round. In the winter pair it with tights, a chunky open sweater and boots to stay warm, or in the spring show it off with bare legs and sandals.
One shoulder
One shouldered looks can work both dressed up or down. On the runway there were one shouldered LBDs, flowy dresses, and bright shirts. To wear this look in real life, let most of the attention be on the interesting shape of the piece and don't add too many other accessories.
This dress from Charlotte Russe mimics the look of a one shoulder, while still having the coverage of two straps. Wear this to holiday parties over black tights and ankle boots or for a night out with a fun pair of pumps.

This shirt has a bold print and cool shape that you can play up or down. For a casual winter day, wear it with skinny jeans, a slim cardigan and moccasins or for a dressy spring look tuck it into a bandage skirt with high heels.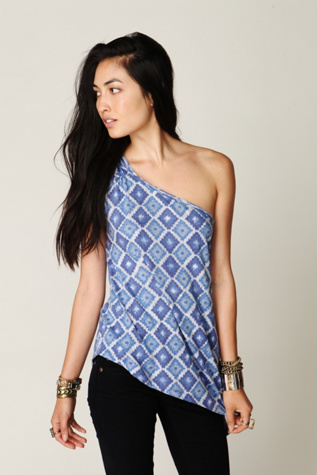 For even more trends you can start wearing now, check out these sites:
http://www.refinery29.com/the-top-10-trends-from-new-york-fashion-week-spring-2012
http://www.glamour.com/fashion/2011/09/spring-2012s-most-wearable-fashion-trends#slide=1